IGTF Membership Map - Identity-Credentialing Authorities
For the coordination of identity-asserting authorities, the IGTF relies on its member PMAs: TAGPMA in the Americas, the EUGridPMA for Europe, the Middle-East, and Africa, and the APGridPMA for the Asia-Pacific region. Each of the PMAs maintains a list of accredited authorities or supports a locator map. Please click on your region of interest to visit the PMA membership pages and find an identity-credential issuing authority close to you.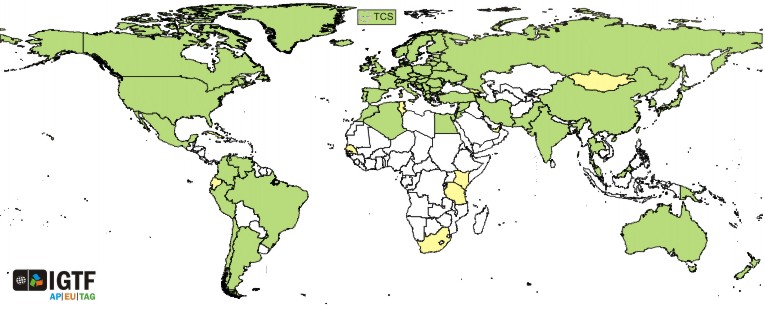 In case you cannot find an appropriate authority and are a member of a coordinated deployment infrastructure (such as EGI, OSG, PRACE-RI, XSEDE, etc.) you may likely have provisions for obtaining credentials from a 'catch-all' service. Please contact your IT infrastructure for details. You may also have access to on eof the many credential translation services accredited to the IGTF PMAs based on existing (R&E) federated credentials. If your county is represented in REFEDS this is likely the case.